Sammy Davis JR. – The 1961-62 Marty Paich Sessions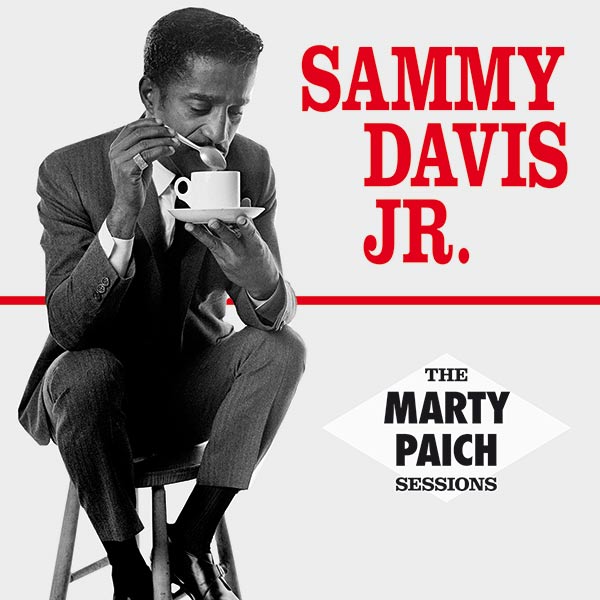 Dieses 2-CD-Set präsentiert Sammy Davis Jr.'s komplette Sessions mit Bands geleitet und arrangiert von Marty Paich 1961 und 1962 (mit so herausragende Jazzmusikern wie Bud Shank, Bill Perkins, Bob Cooper, Jack Sheldon, Jimmy Rowles und Mel Lewis, unter vielen anderen). Zwölf Bonus-Tracks wurden hinzugefügt, bestehend aus Songs aus dem gleichen Zeitraum, die die Sitzungen vervollständigt, auf denen Davis von verschiedenen Arrangeuren und Dirigenten unterstütz wird.
Diese Version enthält die kompletten Original-LPs, The Wham of Sam (Reprise R9-2003), Sammy Davis Jr. Belts the Best of Broadway (Reprise R9-2010), Sammy Davis Jr. Sings What Kind of Fool Am I and Other Show-Stoppers (Reprise R9-6051), und As Long as She Needs Me (Reprise R9-6082), sowie einige seltene Stücke die ursprünglich auf Singles veröffentlicht wurden. Vier Stücke, Here's a Kiss for Christmas, One More Time, The Fool I Used to Be und Everybody Calls Me Joe, erscheinen hier zum ersten Mal auf CD!!!
24 Bit digital remastert, umfangreiches 20 seitiges Booklet mit seltenen Fotos und detaillierten Liner Notes.
TITEL
Let There Be Love
Bye Bye Blackbird
Blame It On My Youth
Someone Nice Like You
Can't We Be Friends
Thou Swell
Soon
Step Out Of That Dream
Gonna Build A Mountain
What Kind Of Fool Am I
That's For Me
A Lot Of Livin' To Do
The Great Come-And-Get-It Day
Make Someone Happy
Two Ladies In De Shade Of De Banana Tree
Guys And Dolls
Something's Coming
There Is Nothin' Like A Dame
The Party's Over
Climb Ev'ry Mountain
If I Loved You
We Kiss In A Shadow
Lost In The Stars
Too Close For Comfort
My Romance
Begin The Beguine
Falling In Love With Love
Once In A Lifetime
As Long As She Needs Me
A Second Chance (Song From "Two For The See-Saw")
Come On Strong
A Man With A Dream
Here's A Kiss For Christmas
Back In Your Own Back Yard
Lush Life
I'm Gonna Live Till I Die
I'm A Fool To Want You
(Love Is) The Tender Trap
Out Of This World
There Was A Tavern In The Town
If You Are But A Dream
One More Time
You Can't Love Them All
Deed I Do
The Fool I Used To Be
Everybody Calls Me Joe
Bee-Bom
I Married An Angel
Falling In Love Again
Without A Song