HDMI Flat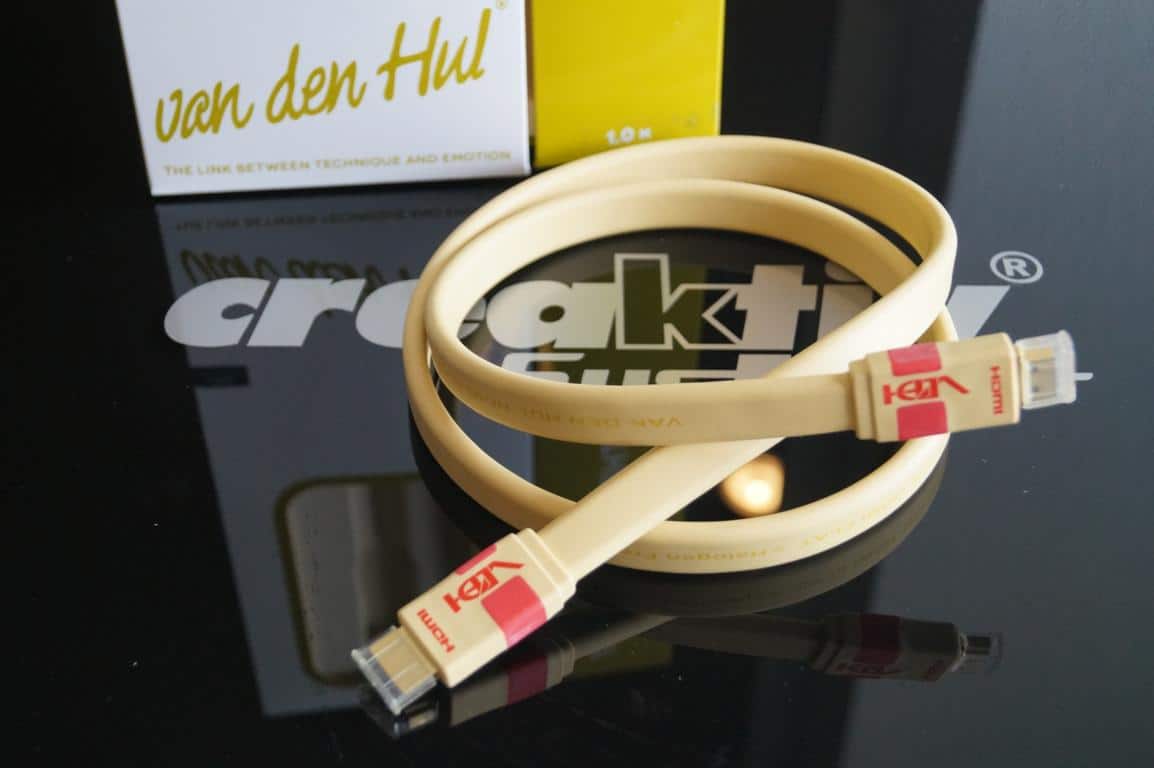 The VDH HDMI Flat (Halogen Free)
Following the latest specifications introduced by the official HDMI organization we are proud to introduce The VDH HDMI Flat, a new high quality, flat shaped, HDMI cable that is fully compliant with the 1.4 standard for lengths up to 10 meter and offers effortless performance even at long 15 meter runs.With The VDH HDMI Flat our included unique design and material features provide unparalleled added value in terms of signal transport quality and fidelity, cable lifespan and environmental friendliness. Applied throughout our product range, this more serious cable design and production approach makes van den Hul stand out from the rest.
The VDH HDMI Flat features:
Fully compliant with the HDMI™ High Speed (v1.4) specification for lengths up to 7.5 meter.
Supports display modes/resolutions up to and including 1080p; warranted for lengths up to 10.0 meter.
High-quality HDMI 'Type A' connectors with heavy gold plated contacts provide solid and reliable connections.
High-density-coated Oxygen Free Copper conductors warrant minimum signal attenuation.
In addition to the cable's Hulliflex ® jacket, the internal conductors' special coating adds extra protection against aggressive environmental conditions.
Environmentally friendly and durable:
The VDH HDMI Flat's cream colored jacket is made of our robust, halogen free, Hulliflex ®.
Hulliflex ® provides long term stability of the cable's mechanical and electrical properties. It is for instance chemically closed, protecting the leads inside from external influences. It is also environmentally friendly, both in production and during its use, as well as after many years of service: Even after disposal it can be burned in an incinerator without producing harmful gasses or toxic waste.
Flat shaped:
With the HDMI standard's enormous digital data throughput of up to 10.2 Gigabits per second, the cable's designed flat shape reduces crosstalk. The result is a higher signal integrity (especially at larger cable runs), which translates into superb digital video and sound quality. The flat shape also provides extra mechanical flexibility as well as extended options in architectural friendly installation, like running the cable through skirting.
Decades of service life for install use.
Available in a wide range of lengths: 1, 1.5, 2, 3, 5, 7.5, 10, 12.5 and 15 meters.
Offering exceptional performance and value for money, The VDH HDMI Flat delivers clear sharp images, accurate color definition, vivid contrast and an infinity of fine detail up to the highest video resolutions. Sound at any digital format is matchless.
Furthermore, to recondition the HDMI signal in A/V installations where the cable lengths are significant, we have a separate HDMI Repeater available.